Content Marketing is one of most strongest marketing strategy to promote your content and products. With a better content marketing strategy you can increase your leads generation by 200x times. Yes Its a fact ! In this article , I will explain 11 Content Marketing tips for successful content promotion . By implementing these tips , you can successfully increase traffic and leads generation on your website.
1. Know Your Audience
Before writing the content , make sure you know your audience well. You must know for whom you are going to write the content. Where gonna your content would be published ? What type of content framework you should use ? Make sure you are targeting the right audience in your content for better results.
2.  Create Content around your Linkreators Content Strategy
Linkreators are those websites and blogs publishers who have power to link back to your content. More Links means more traffic. You should know your linkreators and which content they are interested to publish. Linkreators while writing the content find the good articles / resources to link in their content for reference purposes for their audience. By Creating content which is focus area of your linkreators , you can get more backlinks and ultimately more targeted traffic and leads. Make sure that you are going to write a good topic and high quality content with infographics , high quality images and content which is better than the available content on the internet. How to find linkreators ? Its simple.
How to Find Linkreators ?
Google the keyword which you are going to target in your piece of content. Choose minimum 10 content creators / website publishers who are creating the content around your keyword. Make a list of them.
Go to LinkedIn and then repeat the process and find the professionals creating content around that topic. Again create a list.
One again , Go to twitter and repeat the above process and make a list of content creators.
Now , After creating the list , you have your linkreators and you can easily build up your content marketing strategy.
3. Use Skyscraper Technique ( Hard but 1 of powerful content marketing tips )
Skyscraper is basically a link building strategy introduced by Brain Dean also known as Backlinko .
It is technique in which you find the high quality content on 1st page of Google for the relevant keyword you are going to target. You make a SWO analysis of the pieces of content already ranking on Google . After analyzing the Strengths , weaknesses , Opportunities . You will be in position of writing much better content then you competitors who are already ranking on top . Make sure to include the missing topics in the competitor content . Write in depth content with focus on solution to the problems. Remember writing content around audience issues is best Content marketing strategy. Access the weakness of content and make those weakness your opportunity. Make sure your content is interactive , try to include Responsive images , graphs and infographics in your content. By following this technique , Your content will automatically boost and will get natural backlinks which ultimately leads to more traffic.
4. Choose the Right Content Framework
Before writing the content , Choose the right content framework . The content framework is very important in shaping content strategy .  Following is a list of some popular content framework.
Guide
This framework focuses on a long in depth article covering all areas of the topic. It is a Guidebook which teaches you all from bottom to top. Best for Long form of content.
Listicle
This is a piece of content involving list of things / companies etc. In this type . you make a list of things and give a brief introduction about them . Like " 22 Best Android Apps for 2022 "
Checklist
This is type of content in which you will be writing steps for a particular outcome . Like some tutorial , e.g. " How to setup Google Analytics on your wordpress website "
Industry Case Study
This type of content involves studying the the industry case studies. It can be original research . Case studies or Surveys. e.g. "  we analyzed 514 Blogs for best content marketing tips " .
5. Interactive Content
Your Content should be interactive and engaging. Research shows that interactive content increases conversions by 200%. Interactive content can be very handy and will helps you increase your targeted audience trust in your brand and increases your brand reputation.
Interactive Content Includes Surveys , Assessments , PDF Guides , High quality infographics and personalized content for your audience.
Always use high quality images and design your blog posts and guides individually with a powerful color scheme and interactive design. Remember , an effective website design and high quality infographics has significant impact on your brand authority and reputation.
Also Read : Shopify Vs Wix Vs Squarespace – Ecommerce Websites Comparison
6. Target Topics with traffic and audience intent
You should be well aware of the topics you choose for writing on your website. A Proper content plan is base of successful content marketing. Before start writing on a topic , do in depth research of the topic you are considering to write on. You can use Google Trends , Ahrefs Content Explorer , Semrush and other tools to find the traffic volume in that topic. Remember , Traffic is the thing you are writing for , without traffic you are not going to earn anything. After choosing a topic with good traffic and have a good trending graph . Now , study the intent behind the that trending topic. You should analyze the queries being searched for that keyword . After analyzing , you should include solutions to those queries in your piece of content.
7. Use Alsoasked.com for questions
This is one of unique technique to include the the questions and its answers in your piece of content to provide user a informative articles with most of their queries answered. e.g. When you search " App seo services " graph would be generated by alsoasked.com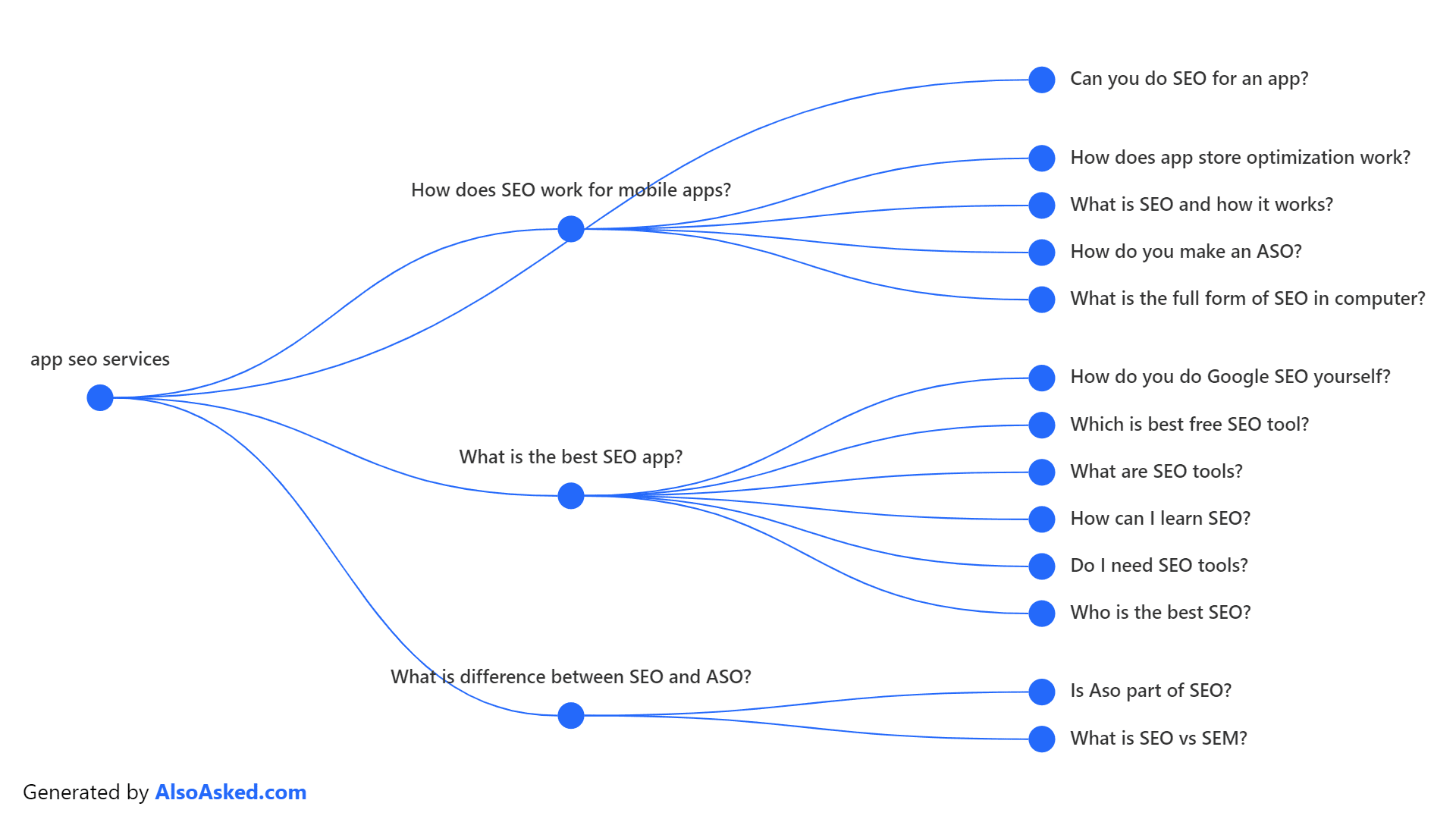 With the help of such a great tool , you can integrate these questions and their answers in your pieces of content. These are the actual questions being asked by people. By answering these questions , you will increase your trust , brand authority and traffic.
8. Promotion on Social Media
With Proper Social media marketing of your content , it can reach a very targeted audience and can brings up good conversions.
How to Promote Content on Social Media ?
Post content or your profile relevant to your Business
Create content for audience not just for your marketing
Make connections and get followers , likes from relevant persons in your industry or have interests in your industry.
Use a Targeted #hashtag strategy for trending topics on all social media platforms.
Post content on social media platforms according to their relevant nature.
Share your content with catchy title and a call to action .
9. Use Medium Tail Keyword
There are forms of Keywords : Short tail , Medium tail and long tail . Short tail keywords is a broad term with a clear intent and usually very difficult to rank for e.g.  " SEO " . Medium tail keyword is one with medium difficulty level to rank and have sufficient search volume. These keywords ranks not only for the specific keyword you are targeting but many variations of your medium tail keyword. e.g. if your targeted keyword is " Content Marketing Tips " then you can also ranks for " Tips for Content Marketing " " Content Marketing Techniques " as well.
Be wise in selecting your targeted keyword as it may be the decision factor in success of your content.
10. Use data and statistics
To backup your claims and win the trust of the audience , you should include high authority stats and data in your content. When you add credible sources in your piece of content , it increases the trust of your audience. Ultimately , with more trust , your brand reputation would increase and you will get start noticing by big publications .
Remember , Always be transparent in your data and stats. You should publish the most accurate data on your content in order to maintain your reputation.
11. Promote your content through email outreach with relevant industry leaders
The most important step in content marketing which often ignored by most of people is to promote your newly published content . If you don't promote your content then how gonna people know about your content ?
How to Outreach the industry Leaders ?
Make connections with them and do engage with their posts with comments , likes and share.
Give a impression of your expertise to them
Its not necessary but recommended to have them in your contact like on LinkedIn , Twitter.
If they are not connected with you on social media then get their emails from their websites , Social media .
Shoot them each a personalized email which is highly targeted towards their personality and interests.
In your email , don't push them to share your content , rather ask them for feedback on your article.
Contact the industry leaders and websites as much as you can , remember more the promotion , more the chances of success of your content.
Conclusion:
Content Marketing is an art , its not an easy game to play , you need to invest much in developing high quality of content. Focus on trending topics – Answers the audience trending queries and formulate a plan to their solutions. Try to gather a lot of content in your single blog post to provide your users with solutions most of their queries in 1 place. Use custom infographics and photos to make your content unique and branded. You should also include the points in your content which is not available on other websites and publications. Remember the more unique and useful your content , the more successful your content will be.
Share your precious feedback in the comments !